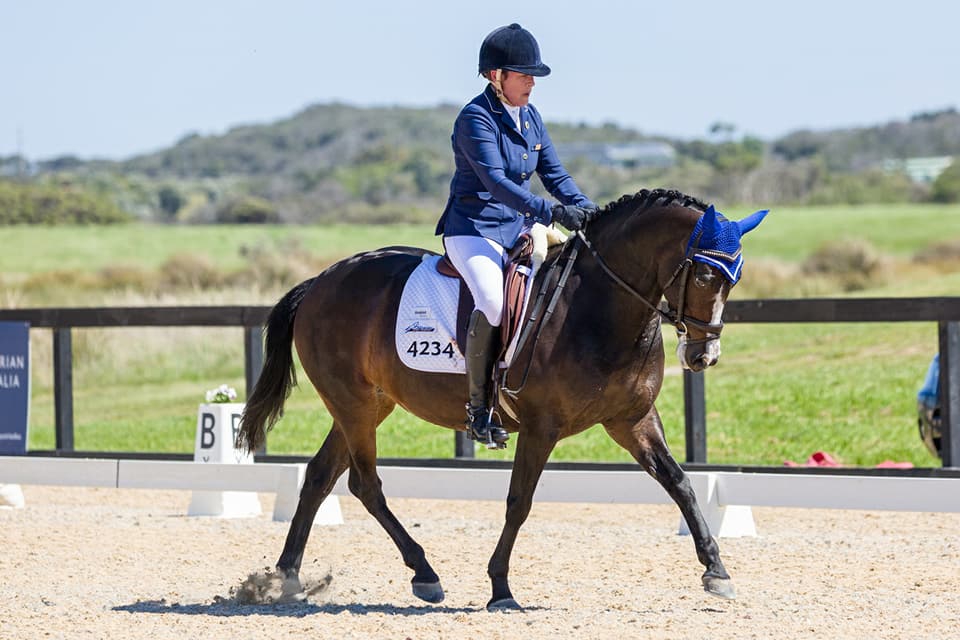 Equine Images Victoria
Tania Hay reports from the Australian Dressage Championships!
Being relatively new to the sport of dressage and coming from a Show Horse background I had never considered the possibility of competing at the Australian Dressage Championships (Nationals) so soon after my change in disciplines. The seed was planted at the Horseware Australia Dressage State Championships in March 2017 when it was mentioned that the Nationals were to be held in Boneo, Victoria in 2017. Now that was looking far more achievable travel-wise than to SIEC in NSW!
I discussed the trip with my long time coach Suzan McDermott. Was I good enough? Was my pony up to scratch? Could I do this? Would I be up to par, not only with my Tasmanian peers but with National riders at my level in the pony dressage level I was currently at? I give Sue McDermott full credit here. She encouraged me, mentored me, and worked me damned hard to achieve a dream I didn't really think would come to fruition so soon.
I am no stranger to National competitions and representing my state. I have been on around 18 Show Horse National teams and have been incredibly successful at a National level in Show Horse classes. 
I knew my preparation would have to be solid but I held no romantic illusions about success, I just wanted to better myself and my pony Shipstern All Show (Daisy) and set a goal of trying to be in at least the top 15 in my tests. I put in my expression of interest to Dressage Tasmania and started to make my plans.
Roll the clock forward from March to July and Sharni Radford, our Team Manager/Chef d'Equipe started to send information about the upcoming Martin Collins Australian Dressage Championships. As it transpired, there was another big competition the weekend before the Nationals, the Mitavite Victorian Amateur Owner Rider Championships. It made sense for as many of the Tassie team going away as possible to be able to participate in this as well as the Nationals. What a warm up that would be and still time to iron out any kinks before the big one!
All too quickly October came around and I felt ready but also apprehensive about my ability and that of my pony. The majority of the team left on the Spirit of Tasmania on the 9th October complete with their four legged athletes. Five of our horses were on one of the Tasmanian Horse Transport trucks and I am forever grateful to Hayley Sheehan for offering the team sponsorship to get our horses to this event. 
Arriving at Boneo the next day after an uneventful sailing was an experience that I will never forget. Driving into that world class facility was amazing! The horses had beaten us there so the next few hours were spent settling them in, unpacking and readying ourselves for the next fortnight. Mandy Parsons and I had elected to stay on-site in a caravan so we set ourselves up and made friends with Carla and Cheryl who were our neighbours in campsite city. The four of us have never laughed so hard, we had an exceptional time on-site at Boneo!
The horses had all travelled well and were very settled. Most of us actually rode that afternoon and Daisy was as bright as a button... Too bright! She settled the next day into solid work as before we knew it the weekend would be upon us and our first round of tests would begin.
I had entered the Novice and Elementary classes at the Mitavite AOR Champs and knuckled down doing some serious work for the next few days. I was assisted by Peter Fischer (Tassie State Squad Coach) and Bert Gibson (A level judge, coach and team captain) in cracking a few issues and we went into Saturday's competition feeling satisfied with the work we had done.
I had three tests on the first day and three on the second day. The first test on day one was a bit scratchy but just to ride on those world class arenas was a win in my eyes. Surprisingly, I managed a 4th in the Elementary and a 7th and a 10th in the Novice! I was pleased as punch. Going to presentations all dressed up in competition gear was a real moment of pride.
On the second day, we again scored a 4th in the Elementary but boosted ourselves in the Novice to a 7th and an 8th. I was very happy with these results! I had just wanted to get my eye in and hopefully ride good tests but these results were very exciting! I discovered the scoring was a bit harsher than at home but still very positive. I also discovered that the ponies are working two levels higher than their competition level over there so the need to be better has really been instilled in me.
I had not entered the Elementary at the Nationals as I felt Daisy was probably not quite there for that event but being able to do it at the Mitavite AOR Champs gave me something to come home with test-wise and was an excellent training guide. My Novice tests were both on the Wednesday for the Nationals and my first test was less than par with a rather crabby pony. Daisy still managed to come 15th overall with a reasonable score and from my 15th to the winner of the class only a 7% difference existed in scores!
Daisy's second test was better but although she received a much higher score she still ranked 15th. The ponies are so much stronger and their work is serious over there and that was a very good learning curve for me. I realised that to compete on the mainland in this sport my pony must be working two levels higher than competition level and she must be solid in her work!


I had no expectations. I just wanted to ride well, learn, watch and achieve goals. I managed far more than I expected and the rest of it was a total bonus in learning so much. I would be so much better next time now I know where the bar is.

I learnt so much and had the most amazing time with a group of people who were true team players. I can honestly say that it was the best team I have ever been on and as you would realise, I've been on a few! Everyone helps everyone, there's no illusions, everyone has a common goal and that is to better themselves. We had so much fun and so much laughter all whilst sharing common goals. We have forged life long friendships on this trip.


I spoke to Boneo Park staff one morning whilst idly trying to prise buckets apart and the staff mentioned that our team was the best they had seen for respectful behaviour towards staff and facilities, politeness and for just getting on and doing it. They mentioned that they wished everyone who came through the facilities behaved like we did and welcomed us back any time. In fact, they told us to bring more Tasmanians next year! This should really sit well with Dressage Tasmania and ETas as this little team of ours made such a good impression.


I have to thank so many people! First off, Sue McDermott who keeps me on track, grounded, focused and thinking. Peter Fischer for pushing me harder and making me strive for better. Dressage Tasmania for giving me State Squad opportunities and supporting me in my change of scenery. The encouragement I have received from so many in the organisation is phenomenal and the mere fact I was welcomed as part of the Tasmanian team as a pony rider, will never be forgotten.
Now to work on being bigger and better for next year.. The learning never stops (and yes, this pony rider is hooked!)


Kind regards
Tania Hay