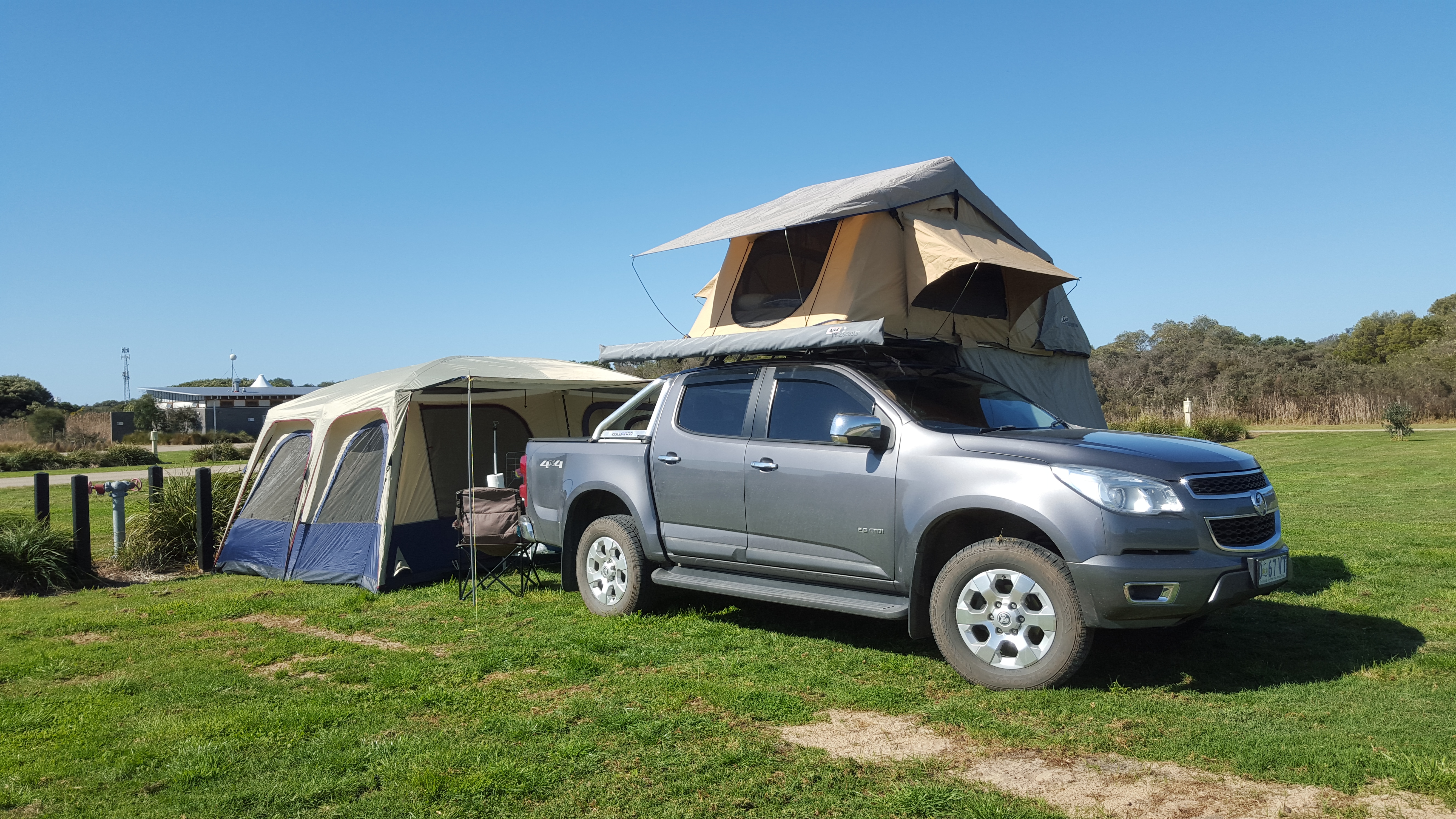 Cheryl Roberts
Mickcarla Townsend reports from the Australian Dressage Championships!
Boneo Park Equestrian Centre is one of the most beautiful equestrian parks in Australia. The indoor, arena surfaces, stabling, horse yards, paddocks and camping area were nothing short of amazing.
On arrival at Boneo Park, my friend Cheryl and I set up our large tent and roof top camper (nicknamed the "Taj Mahal") which was to be our accommodation for the next 2 weeks. Why did we tent it you ask? I honestly couldn't afford a caravan. Anyway, it worked out fine! The Taj Mahal never leaked or let us down, although it flapped a lot in the wind. Luckily, I had organised a powered campsite and we had the sense to bring along a little fan heater which was regularly used to warm us up and dry our clothes when the weather wasn't so kind to us. We were lucky to have Tania Hay and Mandy Parsons camped beside us in their caravan as well. These ladies were the best camping buddies ever and we had so much fun over the 2 week stay! Tania being an old hand at doing Show Horse Nationals was a wealth of information for us all.
Being a Nationals 'virgin' I had no idea of what Furstin Fine Design (Smooch) and I were in for and I wasn't sure how she would cope with it all... Being an only child at home she tends to get over excited when in the company of other horses, so I was very nervous and excited and was finding it difficult to keep a lid on it all. Some of the nervous tension left me when we arrived at Boneo just after the Tasmanian Horse Transport truck and I found Smooch was as bright as a button after her trip on the Spirit. Phew, what a relief. She settled in very quickly to her new surroundings and made a new best buddy with Daisy, Tania Hay's beautiful pony mare who was stabled beside her. This turned out to be a god send when a horse from another state was put in the stable on the other side of Smooch and attacked Smooch every time she moved over to that side of the stable! Thank goodness she had her new friend Daisy to chat to on the "nice" side of the stable!
My relief was short lived though as couple of days later poor Smooch went lame. As you can imagine, I was totally devastated. Ex-Tasmanian/Boneo Park resident Abbie O'Brien put me onto a brilliant vet who diagnosed a bruised heel and organised a sensational farrier to come out. Unfortunately, it still put us out of the 'warm up competition' on the first weekend but both the vet and farrier said she would be fine for the Nationals. I was absolutely elated with the good news but because of the time off we really didn't get the work in that we needed to. I was allowed to walk her around for a couple of days and then I could get on and ride her at a walk only. Pip Cassidy (god love her!) in her Cliffy Young gum boots walked with me along the beautiful wetland riding tracks which meander around the huge property. Smooch loved it so much we went on our own on many occasions until she was right to start proper work. Our first schooling session was on the Wednesday and our first test on the Thursday! Nothing like leaving things to the last minute!
On Thursday, we woke to pouring rain and it didn't lift until lunch time. Smooch & I warmed up with the help of Caitlin Radford and then went out and did a cracker of a test, albeit not as forward as I would have liked because of the heavy rain and heavy going. She took it all in her stride and I was so proud of her! Smooch is just the best, but then again I am very biased.
The second test was just as lovely and a lot more forward this time as the rain had stopped for a bit. Yay! Everything was going great before disaster struck and I had an error of course. Nooooo! Off I went again, my focus now totally rattled and I completely forgot the test and was eliminated. I just wanted to die! All I could think of was "how could I do this to my beautiful Smooch and to our fantastic team?" I was shattered. Thank god for my beautiful friend Cheryl and the Tassie team who were there to pick up the pieces. I don't know what I would have done if it hadn't been for them. Note to self: Look into getting some help in regard to my focus issue!
The team atmosphere the whole time was just amazing. A big thank you must go out to our Chef d'Equipe Sharni Radford and Team Manager Caitlin Radford who were there to help us out the whole time and kept us sane. As a team we were all there helping each other out. I'm sure we all ended up a lot fitter than when we left Tassie with all of the running around to different arenas to watch, video, take photos and applaud our riders. We were the most vocal out of all the states when it came to our riders! There was certainly no "I" in team when it came to the Taswegians. Of this I am most proud.
I would like to thank our major sponsors Tasmanian Horse Transport for the terrific care they took of our beautiful horses and to all of the generous sponsors on the Go Fund Me page.
Cheers,
Carla & Furstin Fine Design (Smooch)