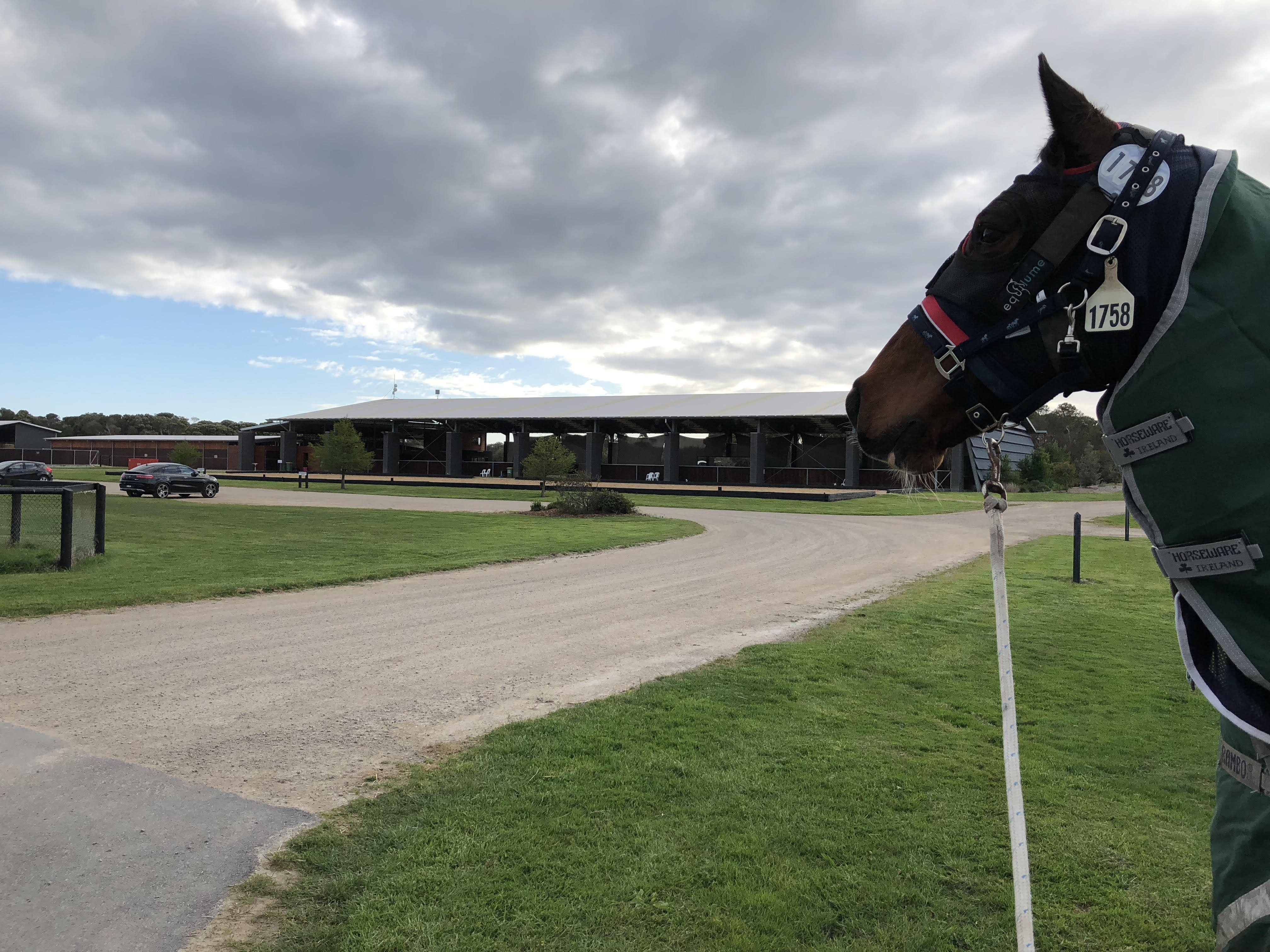 Michelle Milne reports from the Australian Dressage Championships 2017!
Dreams do come true!
Being new to the Tasmanian dressage scene, the Australian National Dressage Champs were not on my radar in early 2017. When the idea of going was first discussed, I certainly questioned whether I was ready for this. I had all the confidence in Tom (Kooinda Saint), so with the support of my supercoach, Lydia Jackson, and family and friends, we decided it was a fabulous goal to work towards over the winter. We had the qualifying scores, we just needed to keep working hard. Who knows if we would get an opportunity like this again.
Our winter prep went well and before I knew it, we were on the boat. Tom and I arrived at Boneo a couple of days after the rest of the team due to other commitments back home. It was quite nerve-wracking walking into the stable block where I barely knew anyone. But this soon changed, and what an amazing group of people to share 10 days with. Tom travelled well and loved being at Boneo, especially with Princess and Rose as his stable and paddock buddies. It was a world class place with such a relaxing atmosphere.
On the first weekend, we had the AOR Championships. I decided to only start in one test on the Saturday, and chose the Inter 1, as it was in the indoor and would be a good chance to familiarise ourselves with the space for the following week. Tom felt great, but a few issues with changes rattled me during the test. This gave me the drive to ride both the PSG and Inter 1 the following day to sort out these issues. Day 2 was certainly an improvement in both the changes and the scores. We achieved a personal best score in the Inter 1 and after a win in the Inter 1 and 2nd in the PSG, we won our first small tour championship! Tom was pretty happy with the bags of Prydes feed he won, and has now decided that EasiResult is his new favourite!
Having the next 3 days to reflect and relax was wonderful. It was hot and sunny and Boneo Park has the most amazing trails for hacking out. Tom and I thoroughly enjoyed exploring them with Mandy and Princess. It was exciting seeing all the big trucks arriving with some amazing animals on board. The whole place came alive. I loved the atmosphere.
Thursday was our first test for the National championships, the PSG. It had been very wet overnight and first thing that day, but the sun was out for our warm up. The outdoor warm up arena was underwater and I don't think Tom appreciated getting his toes wet! Our warm up didn't exactly go to plan, as he was very unsettled and this made me anxious. Tom is never unsettled! Deep breathing wasn't working! With 2 more horses to go before us, Jenny Hodder appeared on the side of the arena, took my hands and helped me breathe, fixed my curb chain which had twisted, and from then on, we were fine! I was mostly happy with my test. I loved riding in the indoor and seeing so many Tasmanians in the stands. There were no nerves during the test, just the excitement of actually being there! I didn't know that there was an AOR section for the competition until after my test, so finding out we came second in that, and getting to take home a rosette was pretty special!
Friday was our Inter 1 and everything went to plan. It was inspiring in the warm up watching some other impressive horses and riders. Again, the atmosphere of the indoor was awesome. Tom obviously loved the big stage too. I felt it was our best Inter 1 test yet. I was happy with our score and ecstatic to find out we had won the AOR section and placed 12th in the open section!!
I had no expectations coming into this trip, but to come home with personal best scores, amazing wins and placings and some fabulous new friends certainly made everything worthwhile. It's taken a few weeks for the enormity of it all to sink in. I learnt so much from this time away and it really does take a village to keep everything running so smoothly. The whole team was so supportive of each other throughout our stresses and successes, and it was wonderful to have so many supporters watching on the sidelines. A huge thank you to Dressage Tasmania, Tasmanian Horse Transport and all those who fundraised to get us all to the Nationals. To Sharni and Caitlin, I'm forever grateful for all your help throughout the time away, especially when things got tough. Tania and Mandy for looking after Tom like their own, when his return trip was delayed by a couple of days, and to the rest of the team for being such an amazing, inclusive, friendly and fun group to share this experience with.
It's now time to reflect and regroup and start dreaming even bigger. I sure hope we will be back at Boneo for the Nationals in 2018!