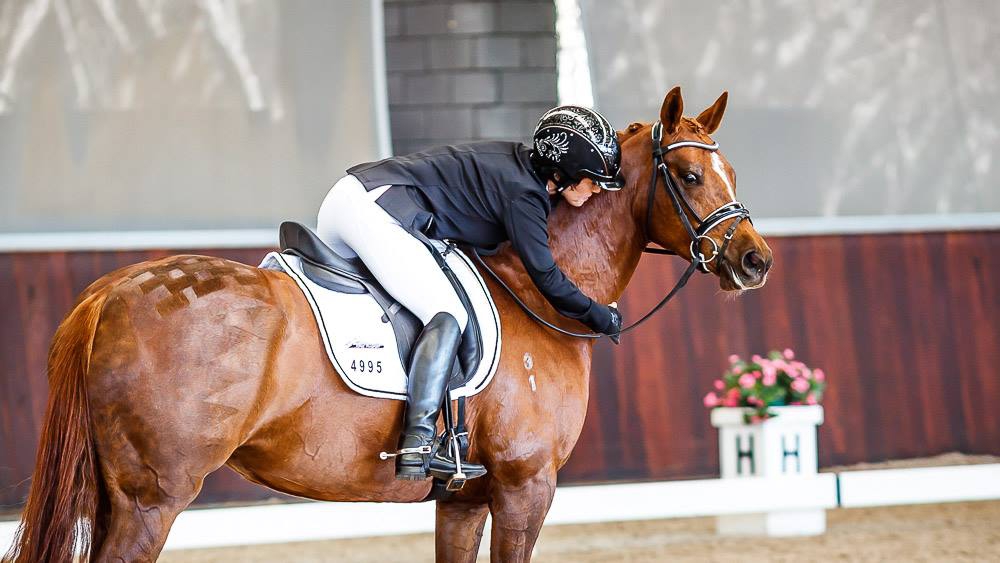 Stephen Mowbray
Mandy Parsons reports from the Australian Dressage Championships 2017
So my little trip across the Tasman started slowly at the beginning of this year, as 2016 was a total wipe out! It started out with 2 falls off of young horses, 1 resulting in a huge haematoma on my right buttcheek & the other with a punctured lung... This was quickly followed by 2 deaths in our family, me running around Germany for 3 weeks, performing & catching up with colleagues that I hadn't seen in 25 years... and then the finale was me ending up in hospital with a heart attack after feeling a tad average whilst having a riding lesson. Needless to say I didn't get much constructive riding in that year, mainly due to lack of facilities but my ponies just loved all those trail rides!
2017 was a fresh start & trying to obey my cardiologist's wishes, I started with Princess & Beanie doing Preliminary at first and then onto Novice for the Championships in March. During this time, my coach Lydia Jackson started muttering about doing Para Dressage & then Amy Griffiths said there was to be a classification here in Hobart for the first time. In the past, applicants had to go to Sydney (mainly) or Melbourne. It was always a question of finance for me in the past & trying to fit in with the assessor time-wise. It was actually a rather enlightening experience & I came away being more knowledgeable about how I use my body in different ways to compensate & realising I was more disabled than I thought!
I then had to go to Melbourne in June to Julia Battam's Balmoral Equestrian Centre to ride for 15 minutes in order to have the assessors see me on horseback in walk, trot & canter. Apparently they weren't going to accept my strap & ring where my left rein goes through but Julia pointed out in the rules that it was allowed. Phew! By this stage I had decided to see what all this Para business was about & decided to enter for the Nationals. Upon asking Julia what I had to do to qualify, she replied "Nothing, just enter!"
Fast forward & off to Boneo Park. It's always a worrying experience travelling a horse to the mainland, particularly when they have had a rather sheltered upbringing. The talk I went to at Hobart Horse Warehouse with the guys from Dynavyte really gave me peace of mind, so armed with everything I could possibly need we headed North. When we got to Tasmanian Horse Transport's depot, I repeated the 100ml of Dynavyte over the tongue & gave Princess half a tube of Good Manners as a calmative. Even though the Dynavyte reps said I wouldn't need Omoguard as it was an unnecessary expense, I didn't want to chance it so I put her on that as well.
It's 1.5 hours to Boneo, which us car drivers did in tandem with Caitlin & Sharni Radford leading the charge. The horses beat us there & I was relieved to see my chestnut looking very well & not too stressed. Again the Dynavyte, a walk & some grass munching as we strolled around the most beautiful facilities at Boneo Park. Our first team meeting for me consisted of:
Caitlin: "Have you learnt your tests?"
Me: "Oh yeah, of course! Just boring Prelim stuff.. Pfft!!"
Caitlin: "Err, no... Elementary movements... And they're a bit quirky!"
Needless to say, that knocked me flat!! Caitlin downloaded some smart app (love the younger generation!) for me which was great and as most people are aware I'm mindicapped as well when remembering my tests. Bert Gibson was great in coming to my rescue and going through these rather tricky tests which had exactly the same movements in both tests but in different spots.
The next few days had Princess getting used to being stabled for the first time & having daily help from Bert. The expectation of my mount being on her toes wasn't realised (much to my surprise & delight) but I did give her some Good Manners for the atmosphere on the first day of the Prydes AOR Championship weekend. We had entered the Novice section and Princess cruised through that & was a tad slow to the aids, however not soooo dull as she spooked when a big grey horse came around the corner of the shed, taking both of us rather swiftly & unglamorously back to 'X'. We got a '2' for that movement!!
Veronica Stewart was the judge for this test & she stopped me at the end of the test to explain that all Para riders could get an exemption for saluting to the judge & could 'nod' instead. Yay! I have always found it annoying to gather up my contact again & quick smart Sharni had that on my card for the National competition 2 days later. We placed 4th in both tests on the first day & on the second day we were in the arenas nearest the stable block. This had the redhead on her toes as she was ready to bugger off back to the stables at the drop of a hat. The first test I thought was quite okay & when the scores went up I was very happy with the 5th place! I didn't expect much from the second test and in fact I couldn't even find my name until someone pointed it out at the top. Well that shocked my socks off & I said to the person that the score couldn't be right & that someone had made a mistake!. Nope, next came the prize giving ceremony and they kept calling my name! Even to this day I'm not sure what all the rosettes were for, only that I won $100, a $50 voucher, a bag of feed & got overall Reserve Champion Novice and the same again for the Amatuer Owner Rider… I'm still a bit gob smacked by it all!
So onto the Para competition where we were against some pretty impressive horse & rider combinations. I have to admit was feeling a bit out of my element with 2 new tests that I'd never ridden. I was just hoping like hell that I didn't forget my way! Again, Princess worked like a seasoned pro as we were first on for the day. She did not put a foot wrong & we were rather enjoying being indoors whilst everyone else roasted in 30+ degrees outside. I hadn't entered the freestyle as it was all a bit rushed & being a musician & having never choreographed one before, I wasn't prepared to just do 'anything'. I was on last for the team event & again she went very well but the jockey went to 'F' instead of 'P' which the 'E' judge saw. The other 2 judges had me in 1st place & I would have won if not for rider error! On exiting the arena, a diminutive older lady said to me "lucky last, you're up for swabbing!" We all thought the horse, but no, they wanted to test me! What fun that was, in a boiling hot room waiting for my body to process 2 bottles of water & going through all the paperwork, picking out testing packs, signing for things etc. When I finally thought I could produce the goods, I came up 20ml short for goodness sakes! Meanwhile I had to race up for presentation, so I had to repack & seal everything, sign, have it witnessed and so finally I dashed off with my team representative Sharni and my diminutive older lady. Of course, presentations took a while and my body was having a lovely time speeding all that water through my system, where it got to a point that I said to Sharni, "how fast do you reckon you could do a 100m dash?" I was busting! We made it just in time, going through the whole unpacking of my original sample, signing for it, blah blah & finally skidding into the bathroom, with minder in tow to verify that it was my pee going into the beaker. 200ml of perfect creation, which I was rather proud of.. but no, it was far too clear so then I had to mix some of that with the original… Arrrgghhh! All I can say is, good luck to whoever was processing the samples as I ran out of room with all the supplements that I'd taken!
So the next day was the open Novice which we hadn't qualified for (a blessing for both of us as Princess was buggered & it was literally PISSING DOWN)!! Princess doesn't deal with the wet weather well & certainly not PUDDLES... It was a day spent running from one end of Boneo Park to the other & supporting the other Tassie riders whilst getting drenched continuously & being frozen to the core. At the end of the day I was putting Princess to bed & just having a bit of a chat with her when I suddenly heard "1st place: Amanda Parsons & LBA Zhia" Huh??? What have we won now?! So, another 100 metre dash to the presentation area to find that I was in the composite team that won the Team Event. There I was in my jeans amongst everyone in their competition gear for group photos. Apparently if I'd have done the freestyle I would have gotten Reserve Champion Para Grade IV. For me though, the whole experience was just to test the waters so to speak, as it was my first competition experience on the mainland & the first big trip away for my horse. It was truly an amazing experience as every judge I had personally came up to me & congratulated me on the partnership of me & Princess. There were so many encouraging comments & one judge actually thanked me for giving her the opportunity of judging me! I did check & see if there was someone else standing behind me that she was meant to be referring to, because in my eye we are nowhere near some of the lovely combinations that we were up against & half the time I'm not even sure if what I'm doing is right!
The whole trip was made unforgettable with the amazing people that made up the Tassie team. What a bunch of rockstars in their attitude, their help & their humour. Of course, Sharni was the lead singer with back up vocals by the gorgeous Caitlin who not only called my Novice tests, but strapped & plaited like a true artist. This mother/daughter team were my go to the whole time for for this whole new world of Para!.
Princess & I have somehow managed to get selected for the Elite Para squad for 2017/18 so we're off to the Victorian Dressage Championships from the 7th - 10th December and then off to Boneo at the end of January for the CPEDI competition. These are international classes & Boneo is a qualifier for the World Equestrian Games in September 2018 held in North Carolina.