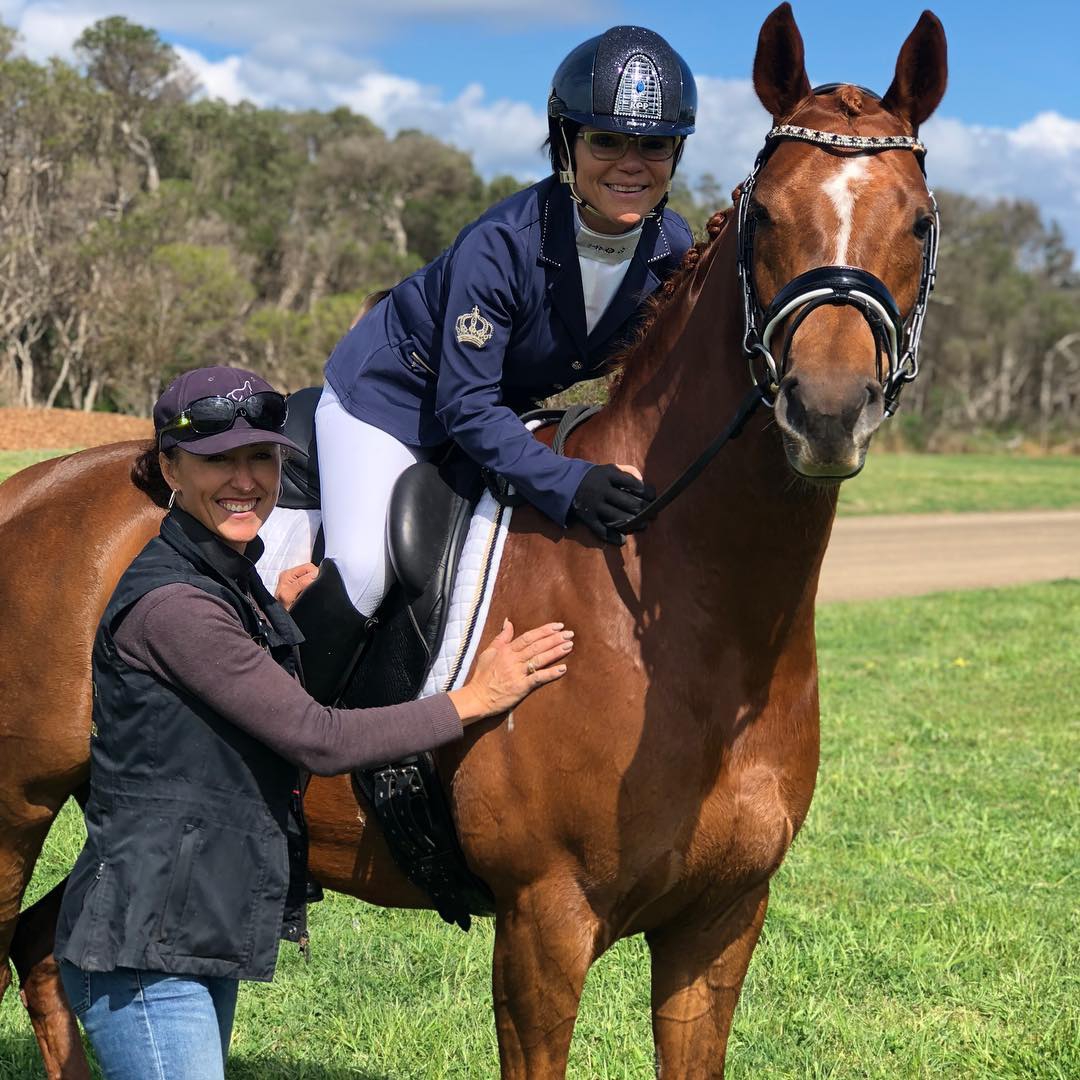 County Saddlery - QLD
Mandy Parsons reports from the 2018 Australian Dressage Championships
Another trip across the ditch! Our fourth in a year & our second Australian Dressage Championships. I'd like to say that Princess & I are so much more seasoned & hitting things out of the ball park but each time I think we are nailing it, something else pops up that is suddenly costing us valuable points & in need of urgent 'attention'!
This trip was the first one that involved just us and the animals travelling there and back from Cambridge. Quite a feat when one has a husband that leaves packing until the last minute (he was even late for my mother's funeral with the whole congregation having to wait for him as he was the techno man)! If it wasn't for two trusty helpers on the morning of Sunday the 14th of October, I would have driven off without him (even set that final departure time at 10.30am & was happy with the eventual 11.30am)!
So with everything packed to the rafters, two extra saddles for friends and gear for every type of Melbourne weather we headed off taking with us our two dogs, Princess and her fat little travel companion, Beanie. Sharni Radford let us rest the girls for a few hours at their property which is about ten minutes from The Spirit and although they had access to some beautiful green grass, they spent most of their time huddled together freaked at the black & white 'monsters' over the fence!!
Once on the boat, I dropped their chest bars and just strung a thick rope in place so as they could get their heads totally down. I strung up water buckets and left them with a smorgasboard of soaked hay and lucerne. It was a relatively good crossing and Beanie had a good time trashing her bedroom (and getting her Hidez hood over her ears & eyes…) but Princess (the lady) had kept her side well ordered.
We drove straight down to Mornington on the Monday morning where we were staying with friends who are fitting out our new float for us. They have a beautiful ten acre property which is only about a 20 minute drive to Boneo Park straight down the freeway and we were leaving Beanie there for the week. After a days rest for Princess, we headed off to Boneo the next morning. I thought Beanie would chuck a pink fit with Princess leaving, but by this stage Beanie was sooooo in love with one of Viv's geldings, Maverick, that she barely noticed us walking off!
We had a schooling session & arena familiarisation that afternoon with eyes on the ground from the stunning Caitlin and it was then onto washing and settling the pony for the next day where we had the Para Equestrian Team & Individual Para Grade IV section.
Princess seemed a little on edge the next day and when I went to warm up the arena was chock a block full of horses. I walked her around on the outside to help settle her as she can get quite horse shy when there is any sort of bun fight happening! Unfortunately, one competitor in my section had little regard for what was happening around her which made it extremely hard to achieve much, so even though Princess was happier once in the indoor she was a little more tense than normal which was reflected in the score of 67.167% which put us in 2nd place. The Individual test was a little better with 69.268% which put us in 1st place. One problem was that my very obliging pony started to anticipate the simple changes & I would then make her wait, only to have her be slow in taking up the new lead which then exceeded the requirement of 3 to 5 steps. Easily fixed, but not in our time away!
The freestyle was on the Thursday and it was a bit unfortunate as I had devised harder movements but needed an uninterrupted run-through to get this solidly in my head. This was not possible with all arenas full, so I chickened on that and although the first half was ok, the second half wasn't as successful which saw a score of 69.9%. Bugger... 1% off 70%! I was in a composite Grade IV team with Chelsea de Jonge from WA on Boy (Caitlin's old pony) and Claire Graham on Comtese from VIC. The Victorian team was really strong but we won by a good 10 points! Well done girls!
So all in all, there are lots of little things that we can improve on that will help get those higher marks and will be so much easier when my arena is finally completed and I can school more readily and consistently!
On Friday, Princess had time off and we managed to score some paddock time to which she dragged me at a power walk right to it!
Saturday saw the most ridiculous conditions for our two elementary tests where it was a steady, heavy rain with wind gusts. Did I mention that Princess doesn't do water? Particularly cold?! As she'd had the day off before, I thought I'd better go out and get her used to the elements which was a wrong move. After the obligatory bun fight (which now involved being sprayed with water when anyone passed) Princess decided she was heading back to her stable at any opportunity. We were both absolutely saturated, water down my boots & she was miserable. My 1st centreline consisted of a full blown tantrum... Moving right along, we went around the corner to do our medium trot across the diagonal & all I could see was a 60m lake up the long side…at which point I just started laughing. We have problem enough with wet feet but it's a definite no to wet tits! The afternoon Elementary 3.3 was drier but if anything, the arena was a sodden sludge and she wasn't going to do any fancy stuff through that! The 3.2 scored a 60.234% and the 3.3 a 63.583%. The winning scores weren't that that flash so it was nice to see that the 'Profis' struggled somewhat as well. We did manage to get a 3rd in the Elementary Amateur Owner Rider which was a nice consolation.
We took Princess straight back to Mornington where she had some down time before we left on the Sunday night Spirit. After that long journey it was the first time that Princess wasn't out in the back (which has been a huge issue with the last 3 trips). This was due mostly to the Cytek shoes she has which provides more support for the hoof when standing for long and also the large roomy float that Viv lent us with its German suspension.
Our little troop is back to Boneo at the end of January so there is a lot to be fixed before then. I really wouldn't be achieving this all without the guidance from my coaches Lydia Jackson and Roger Fitzhardinge. Their teaching AND patience is greatly appreciated but the main man is my husband, the 'Late' Ottmar Ritter. Without him it would not be happening at all!
I'd like to also thank the 'Dream Team'; Mumma Bear (Sharni Radford) & The Sex Kitten (Caitlin Radford). Their help & organisational skills are just so invaluable and even though it was a smaller team that went from Tassie this year, I think we all did pretty well doing what we love to the best of our abilities. Thanks also to Dressage Tasmania.