Election Forms
2016/17 Board Elections - 
 Dear Members,
3 nominations have been received 1) Chimene Deavin, 2) Claire Reynolds and 3) Catherine Way. You are required to vote for 2 ONLY nominees.
Please down load the Ballot paper below and post completed form to The Returning Officer - PO Box 277 BRIGHTON TAS 7030 - Nominations must be in the Post box no late than 5 pm on 10th August - Late forms will not be accepted. Only Envelopes which have current EA member number on the back of the envelope will be deemed valid and opened and counted by Board appointed scrutineers at the AGM.
The new members will join your existing representatives Mrs Suzanne McDermott and Mrs Kate Cawthorn (Elected members), Helmet Rechberger ( Jumping Representative), Mrs Hatty Taylor (Eventing Representative), and Ms Amy Griffiths (Dressage Representative) to manage the State organisation on your behalf.
1608_BallotPaper.pdf
Please read the Information on the Ballot paper.
Claire Reynolds CV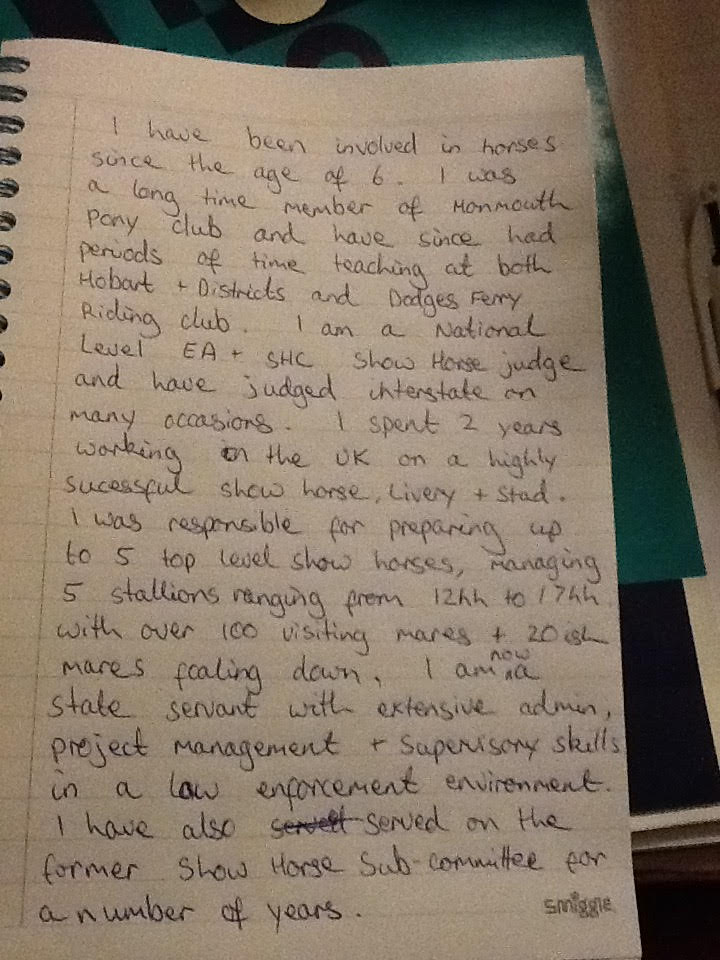 Download General Information: 
2016_Equestrian Tasmania Board positions.pdf
Board Positions: 3 Nominations Recieved
1 x 1 year term - replacing the Late Paul Brown.
1 x 3 year term - Current position held by Chimene Deavin - Chimene is eligible to nominate:
Show Horse Representatives:  NO Nominations Recieved
5 Positions Available
This committee organises and runs the annual Tasmanian HOTY and forwards recommendation to changes to Show Horse Rules to the Board
1.       All nominees understand and agree to be bound by the constitution of Equestrian Tasmania especially sections 38 to 44.5 specific to sports committees
2.       Members nominating for positions must have sound organisational, financial and planning skills and be able to work within a committee environment in a cooperative manner
3.       Prospective committee members must agree to carry out those tasks in relation to servicing show horse members at the direction of the ETAS board
4.       Work cooperatively with the Board of Equestrian Tasmania and the members of the show horse community
5.       Be prepared to commit to and sign off on those KPI's determined by the Equestrian Tasmania Board