Krysia Mitchell
SHOWJUMPING TASMANIA NOVEMBER UPDATE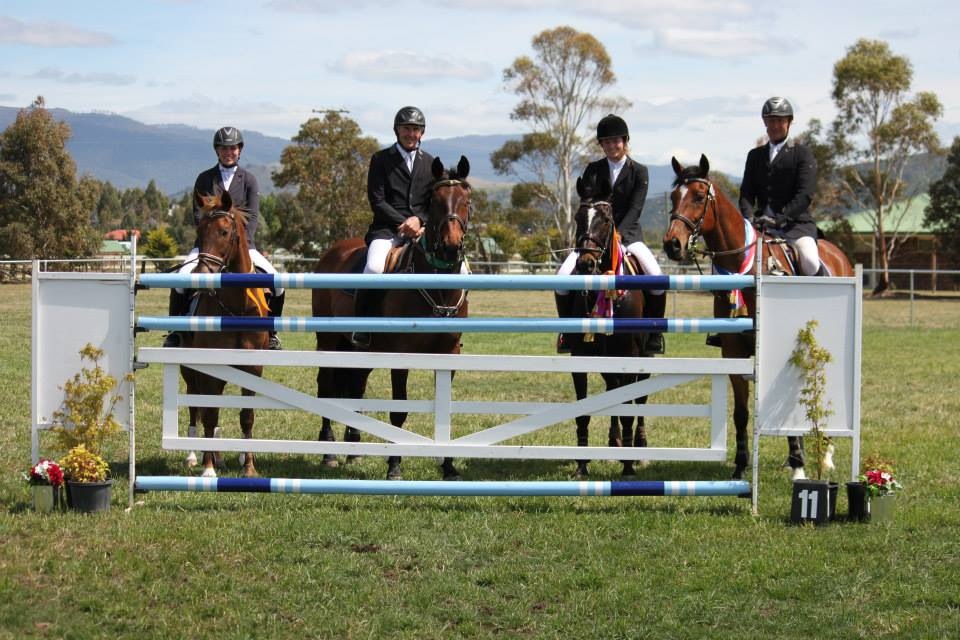 It is a hectic time of year for showjumping here in Tasmania.  Shows every weekend across the state leaves little time for keeping up
with reporting so apologies.
What has been happening;
TEKNA NATIONAL YOUNG RIDER SERIES
Round 1 took place at South Spring Festival at the Tasmanian Equestrian Centre and Round 2 at Westbury Agricultural Show.
Thankyou to all involved in conducting these events.  It is a big undertaking to construct the course as requested by the national elected CD for this series but this
event does give our Young Riders the ability to be included in National Selection. Congratulations to Mykaela Briggs, Ashley Steele and Alysha Verwey for competing in this event.
Mykaela Briggs won both selection events.  Full results from all States can be found on the National EA site.  
LIFE MEMBERSHIP
Showjumping Tasmania was proud to present Life Membership this year to Judy Kilby and Elizabeth Richards.  Awarded at Westbury Show by State President Tim Williams and Secretary Isabel Casey.
Both were founding members of the Tasmanian Showjumping Association. 
ELIZABETH RICHARDS
Founding Member of the Tasmanian Showjumping Association which was formed 12th February, 1975
Inaugral State Secretary  1975, and continued 1976, 1977  and returned to this position in 1981.
State Treasurer   1978
State Committee Member for many years.
Liz as we all know her, represented Aust 1971 in UK.  At what is now known as the Inter Pacific. Returning from this her passion for showjumping began. Strapping for Geoff Richards, Geoff and Liz produced some very successful horses in Ansett, Apollo 11, Bon Alva, Hadrian.  Geoff contributes much of his success to Liz in the behind the scene work she did.  Administration, strapping, working of horses and at the same time jumping herself. Over the years Liz has been a great ambassador for our sport.  In recent years her passion has been in coursedesigning, current EA Level 2  Her passion for also designing jumping equipment, Liz believes in creating good equipment  for competitors to compete over and for spectators to enjoy. Liz is also a very respected EA Level 2 Judge. With all of this Liz continues her riding and educating horses.  Recent years has owned some lovely young horses in which her daughter Elsie has ridden.  Still looking for that Future Stars winner.Very active member of North,  sub committee member for State Titles when held in the north and a very dedicated member of Westbury Show.  Always looking to improve surfaces and standard for jumping.
Committee and members of Showjumping Tasmania thanks Liz for her involvement and congratulates her on been awarded Life Membership of Showjumping Tasmania.
JUDITH KILBY
Founding  Member of the Tasmanian Showjumping Association which was formed on 12TH February 1975 and has continued to have an ongoing involvement with the sport.
 Judy as we all know her, has ridden at the show circuit in Tasmania from an early age. She grew up with her family travelling the show circuit.  In the early days the horses would travel to Hobart Show on the train. Her father Reg Wadley for many years owned some of Tasmania's top show-jumpers often taking them to compete at Melbourne Show.
Some of the horses Judy has owned and ridden include Saltora, Theme, who went on to jump at Melbourne Show, Clyne Vale, Black Action,  Vanark, , Barts Guide, Eastern Sam, , Arniston Castle, Fire & Ice, Royal Angus of Neika, Anawa Clancy and most recently the best one of all, Ollie!  In 1961, at the age of 14 yrs, Judy was a member of the Pony Club Team that  represented Tasmania at the Inter-Pacific Pony Club Trials on her pony, Silver King.
 Judy's life-time involvement and commitment to equestrian sports has been recognised with Life- Membership awards to the  Tas Pony & Riding Club, Nthn Zone Pony Club Assn of Tas, Pony Club Assn Tas, Tas Mountain Cattlemen's Assn, Northern Hunt Club, Westbury Show and the  Northern Tas Equestrian Assn. Many of our members would  probably had their first showjumping lesson with Judy, or at some stage been instructed by her at Pony Club or Showjumping days.
 As an accredited  EA Level 2 SJ Course Designer Judy has for many years had, and continues to have, an  input into the sport designing courses at Agricultural shows for many of our current and past  members to participate over and enjoy.   Judy was also an accredited Judge up until a few years ago.
Judy is very committed to the Westbury Agricultural Society assisting with all aspects of show preparation. She was the secretary of the horse committee for 24 years.  I am sure she can take a lot of credit for the growing success of this show.Committees and Members of Showjumping Tasmania thanks Judy for her involvement and congratulates her on being awarded Life Membership of Showjumping Tasmania.
OTHER STATE NEWS;
The Talent Identification Final for Young Horses was held recently in Victoria at Shepperton World Cup Show.  JP Chivas qualified in Tasmania to attend the final and placed 3rd.  Congratulations to owner Nicole Brown and Rider Mykaela Briggs.
National Young Rider Team invited to compete at the New Zealand HOY Show - congratulations to Mykaela Briggs on being selected as part of the Australian Young Rider Team.
Tasmanian State Titles are being hosted by North West club over the weekend of December 13 & 14 entries are open via NOMINATE.