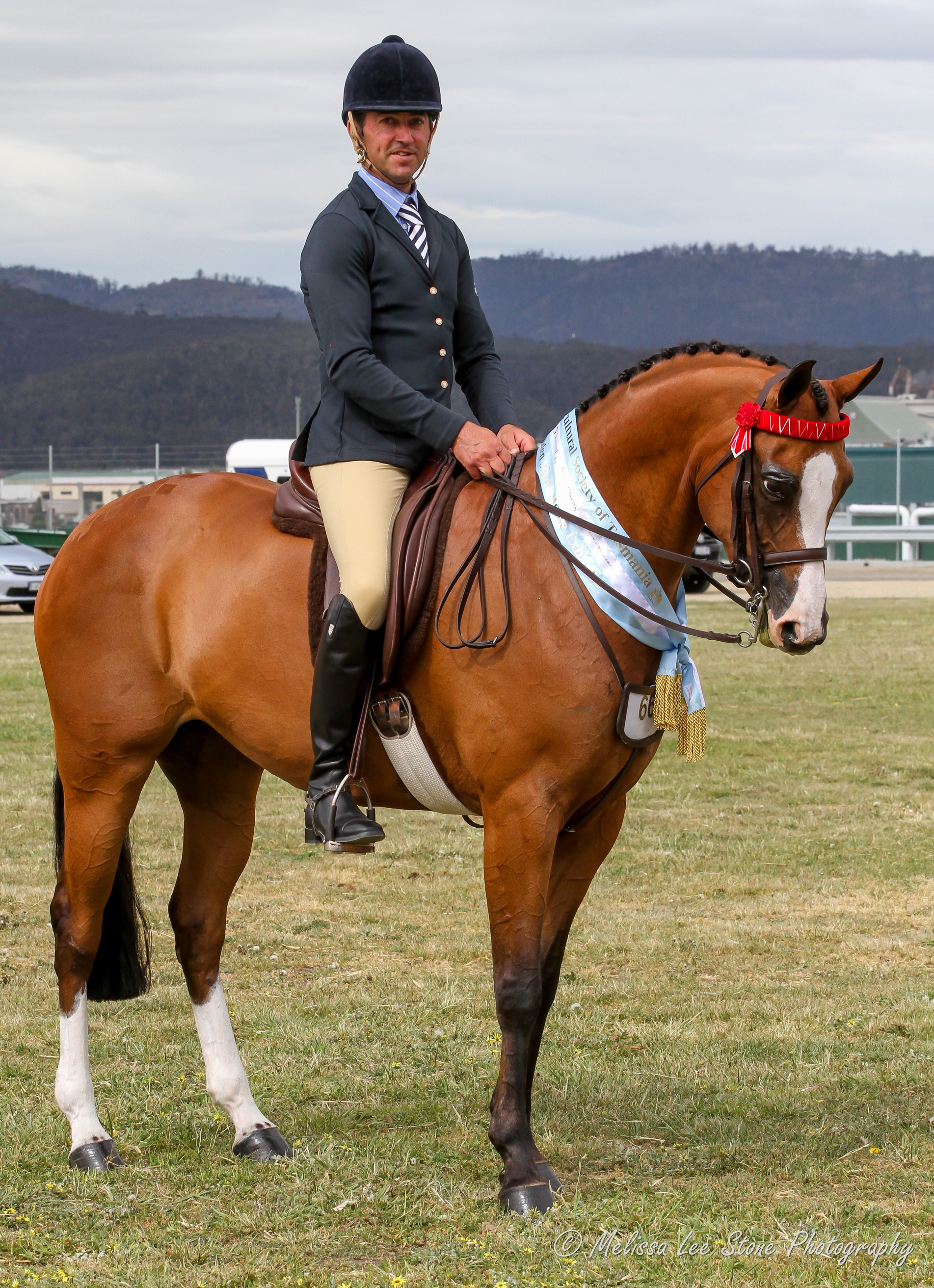 Melissa Stone Photography
ROYAL HOBART SHOW 2015 WRAP UP
SHOWHORSE 
Hobart Royal Show started a day earlier than usual this year due to ground developments and ease for all disciplines with room to move. Very much atypical of 'show weather' the week leading into the show saw the obligatory wind, rain, heat and the odd snow shower.
Tuesday was the day for the open horses and numbers were up in some sections but disappointingly low in others. Rozzie Ferguson-Pelley [UK] and Wendy Hunt [SA] were the appointed judges.
Champion Small Galloway was Fairfield Staccato ridden by Tania Hay, a horse who is always ever reliable! Reserve champion was Sanlirra Graceland ridden by Dani Zeiser. The UK judge sorted the galloways out with some interesting workouts straight from the UK!
Whilst the small galloways were being judged in ring 1 ring 2 was underway with the large galloways under the watchful eye of Wendy Hunt.  Champion Large Galloway was Matthew Patterson with the striking Arabian bred mare World Class MI. Reserve was Homevale Triumph ridden by Bernadette Warren.
Alas only one small pony entered this year's royal show and that was an eventual scratching. Into the large ponies went Braefoot Park Royal Secret piloted by Dani Zeiser and was the eventual champion with Naringa Royal Icon ridden by a young rider Blake Young reserve. Again the UK judge Mrs Ferguson-Pelly cast her eye over the contestants in this section.
Leading rein seems to be a dying class with not a lot of young children coming through. We clearly need a baby boom! Champion lead rein pony was the very cute Brinarra Park Madison Avenue led by mother Suzi Cameron and ridden by Matilda Cameron. Reserve was Lucy Gangell on her pony and led by Tracey Gangell.
Large Hacks and Wendy Hunt was looking for a good moving well-mannered hack that covered the ground and went softly. Clint Bilson on Hayley Sheehan's Optimal took the coveted sash with Jess Elphinstone's 'Oh, So You Think' reserve.
Small Hacks were a section down in numbers but the winner under Rozzie Ferguson-Pelley was a Victorian horse that had heighted up from large galloways into small hacks, Cherishwood Dream on ridden by Francesca Christie. That just proves height is no barrier when a good horse is a good horse. Reserve in this section was another Victorian Horse Sharinga Spellbound, ridden by Clint Bilson. A very successful show for the Victorians and Clint in particular!
Best Novice Exhibit was Matthew Patterson's World Class MI who then went on to romp in as Supreme Ridden Exhibit. A cracker of a royal show for the mare and connections! 
Show Hunters were Wednesday and again numbers in some sections were down to disappointing levels. Show Hunter Large Pony was a very neat black pony from Victoria, Gresam Lodge Maximus, who turned in some excellent work to claim the sash over Grant Walter riding his home bred Shipstern AllShow. Nice to see Grant back in the show ring!
Small ponies in the hunter ring had good numbers! It was very pleasant watching the kids have a hoot around under the UK judge. Champion Small Hunter pony was the grey Lykanarro Rocklyn ridden by Jordan Barnard and reserve was Tundra Park Distinction, Bethany Hirst.
Hunter Small galloways were affected by the dreaded lack of numbers disease but what the field lacking in quantity sure made up for in quality. The eventual champion was Sheldene Benallen who was foot perfect for Leanne Moore. Runner up was the bright chestnut Fairfield Royal Ballet ridden by Jess Elphinstone.
Hunter large galloways again affected by low numbers and the winner in this section was the super bright bay Millawarrah Martini ridden by Dani Zeiser. Reserve was Shari Sweeney on the grey Heartwood Jewel.
Onto the big ones and the big winner in the large hunter hacks was Kooinda Saint ridden by Michelle Milne. A very big moving correct horse, he impressed the judge with his work and presence. Reserve was the big chestnut Berwood Skylark ridden by Renee Woodleigh.
Small hunter hacks had a few scratchings at the gate so the eventual champion was the liver chestnut Bakers Dozen ridden by Annika Nowell and reserve was Unique Prospect ridden by Nona Baker.
Best Novice Exhibit was Kooinda Saint and Supreme Ridden Hunter Exhibit was Millawarrah Martini.
As the curtains drew to a close on the two days of hacking the Pony Club entrants moved in and took over the ground for their very full on day of competing across all disciplines. Showjumpers took up the ground on Friday for 2 competitive days of showjumping.
SHOWJUMPING
Hosted by Kingbourough Showjumping Club.  Victorian Course Designer Paul Williams a regular at the show building great open tracks. Open Championship was won by Jellystone Park Chivas ridden by Mykaela Briggs Reserve to Amity Williams on Jellystone Park Partytime. 
The 110cm Champion went to young up and coming rider Abbey Velnaar riding My Ziggy Stardust.  Open Preliminary Championship of 1m was won by Sam Stone riding Van Hard Yards and the Junior Championship won my Alysha Verwey aboard Aquila Starline.
There was a lot of trepidation with the Royal Show this year due to so many changes but the show went off relatively well without too many dramas. Next year will see the arena totally resurfaced and plans are underway for it to be ploughed up shortly. New improvements for the stables are planned and overall competitors will see a change to arena set up. First year is always the hardest! Hopefully next year we will see better numbers at Hobart Royal show!  
Thanks you to Tania Hay and Melissa Stone Photography for assisting with information for this report !!