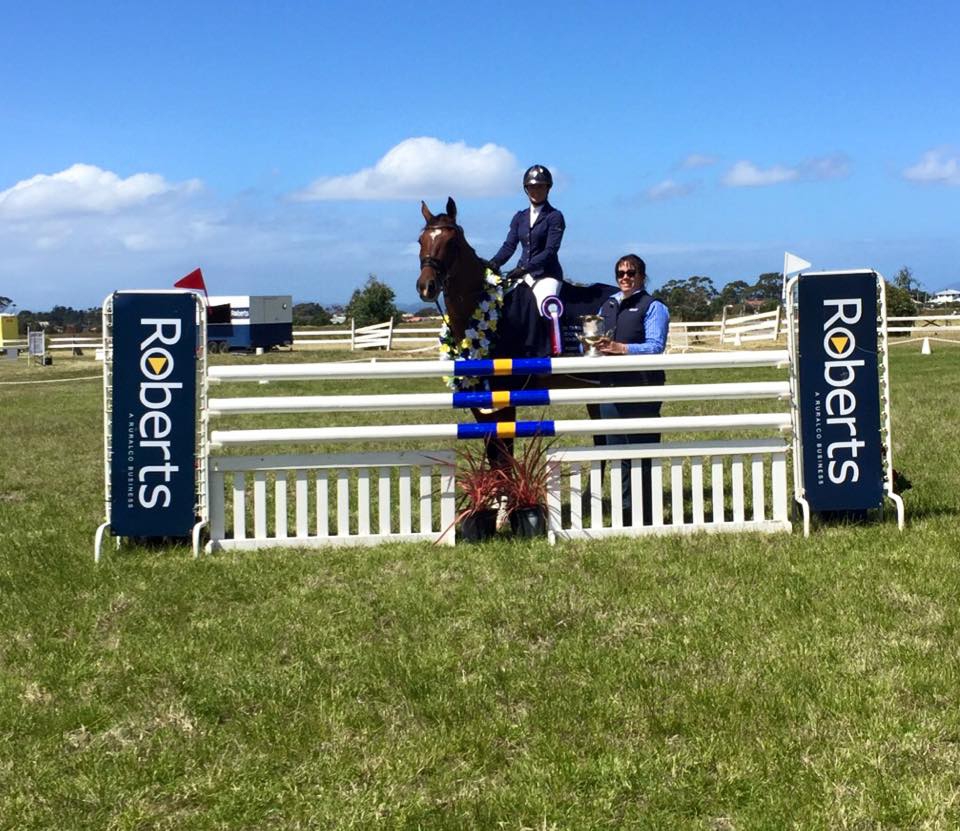 Jess Honan
Roberts Tasmanian State Showjumping Championships 2016
The 2016 Roberts Tasmanian Jumping Titles took place on 10 and 11 December at the Tasmanian Equestrian Centre, Lauderdale.
SJT  TEC and Kingborough branches combined to again host a fantastic weekend of jumping.
Victorian course designer Gavin Chester built in Ring 1 with courses ranging from 1.05m to 1.35m classes.  Courses were open and flowing while presenting a challenge worthy of a state title competition.
Tasmanian designer Nicole Brown built in Ring 2 with courses offered from 80cm to 1.10m.
This ring had substantial numbers entered with some great jumping covering young horse classes and junior events.
The feature event  of the weekend was the Roberts Ltd Open Championship. After 2 rounds of competition  a third jump-off round against the clock was required between Alysha Verwey aboard El Cairo and Mykaela Briggs on Jellystone Park Chivas. 
El Cairo was first out and posted a fast clean round to set the standard. JP Chivas came out performing a tight fast round but took the back rail on the final oxer, giving the 2016 Roberts Open Chamion title to Alysha Verwey.
The Rosehip Vital Equine Young Rider Title started at 1.20m and saw a well deserved win to Jess Price aboard Dutch Edition, jumping some super rounds in this class with runner up to Mykaela Briggs and Landstar 9.
The final round of the Tasmanian National Young Rider Series was won by Mykaela Briggs aboard Jellystone Park Chivas jumping double clear, followed by her second ride Landstar 9.  The 4 starters in this event all jumped well over a testing course.
Mykaela Briggs it to be congratulated in her final year as a Young Rider. She has represented Tasmania with much success during her Young Rider years.
The Charlotte Peterswald Junior Championship was held in Ring 2 with a win to Sasha Cantwell riding Burrowa Banjo.  Second went to  Adele Rechberger and Cil Dara Regina.
Saturday evening saw the running of the fancy dress Six Bar.
It was a great event for spectators who get to choose the wining fancy dress. 
This year Esther Cantwell and her life like jumping zebra took the honors.  However State President Tim Williams aboard Jellystone Park Partytime were winners in the jumping section…ironically with Tim dressed as a nun.
Thankyou to the many sponsors for making the 2016 State Championships a great success.
Also many thanks to all who volunteered time towards this event.
2016 ROBERTS TASMANIAN STATE SHOWJUMPING CHAMPIONSHIPS
10th – 11th DECEMBER
RESULTS
SATURDAY  - RING 1
Class 1 Rebecca White MP Welcome Stakes 1.05 m
Article 238.2.2
1 Ima Gold Seeker                              Lydia Dales
2 Tonash Mondo                                 Georgia Elias
3 Sheridan Park Maxx              Shayne Rodman
4 Gidget du Rouet                              Tim Williams
5 Spiritually                                          Nick Towns
6 Bohemian Rhapsody             Abbey Velnaar
Class 2 Equestrian Tasmania Welcome Stakes 1.10m
Article 238.2.1
1 Country Gold Pritchard                    Ashley Steele
2 Hobson                                            Leearn McNamara
3 MEC Gatsby                         Alysha Verwey
4 Cellar Door                                      Sophie Roles
5 Jellystone Park Peroni                       Amity Williams
6 Tonash Mondo                                 Georgia Elias
Class 3 Choices Flooring Welcome Stakes 1.20m
Article 238.2.2
1 Any Danger                          Laura Johnson
2 Jellystone Park Party Time    Tim Williams
3 Jellystone Park Cassime                     Mykaela Briggs
4 Back in the Game                             Andrew Gibson
5 Cellar Door                                      Sophie Roles
6 Shad                                     Wendy Hall
Class 4 Boneo Park Classic Welcome Stakes 1.30m
Article 238.2.1
1 Jellystone Park Chivas                       Mykaela Briggs
2 El Cairo                                             Alysha Verwey
3 Any Danger                          Laura Johnson
4 Landstar 9                                         Mykaela Briggs
5 Dutch Edition                                   Jess Price
Class 5 2016 National Young Rider Series Tasmania Round 3 1.30+m
Article 273.3.3.2
1 Jellystone Park Chivas                       Mykaela Briggs
2 Landstar 9                                         Mykaela Briggs
3 El Cairo                                             Alysha Verwey
4 Dutch Edition                                   Jess Price
Class 6 Jellystone Park Fancy Dress Six Bar
Article 262.3
1 Jellystone Park Party Time    Tim Williams
2 Jellystone Park Chivas                       Mykaela Briggs
3 MEC Gatsby                         Alysha Verwey
3 Dutch Edition                                   Jess Price
3 Jellystone Park Peroni                       Amity Williams
6 Wellbrook Chesterfield                    Courtney Lattin
Best Costume                            Esther Cantwell
SATURDAY – RING 2
Class 7A – JUNIOR -  Cressy Chaff Welcome Stakes .80 m
Article 238.2.2
1 Rosebank Whippy                            Shakira Miller
2 Miss Molly                                         Jade Ruffo
3 Rosebank Lily                                    Emily Irvine
4 Rektango                                          Petra Scheucker
5 Butterscotch Brittle              Bethany Hirst
6 Partly Cloudy                                    Bethany Hirst
Class 7B -SENIOR -  Cressy Chaff Welcome Stakes .80 m
Article 238.2.2
1 Roser                                                Wendy Hall
2 Romany Dancer                               Kara Berry
3 Dragon Fire                          Rachel Deal
4 Ollie                                                  Judy Kilby
5 Schnapps                                          Alice Hirst
6 Lacento                                            Lucie Riley
Class 8A – JUNIOR -  Hobart Horse Warehouse/ Kelato Welcome Stakes .90 m
Article 238.2.1
1 Aglaia Hippios                                   Chloe McFarlane
2 Sir Rollington                                    Bella Heritage
3 Partly Cloudy                                    Bethany Hirst
4 Miss Molly                                         Jade Ruffo
5 Little Porkies                         Macenzie Kerrison
6 Augustus Park Casper                       Laura Monty   
Class 8B – SENIOR -  Hobart Horse Warehouse/ Kelato Welcome Stakes .90 m
Article 238.2.1
1 Rogen Jack                            Karen Heiermann
2 Cool Royal                                       Shayne Rodman
3 Rupert                                              Lydia Dales
4 Inlet Farms O'Hara               Jess Price
5 Consider Yourself                             Lucy Watson
6 Odyssey Ruby                                   Charley Freeman - Finn
Class 9A – YOUNG HORSE -  Access Solutions Welcome Stakes 1.0 m
Article 238.2.2
1 Jellystone Park Ruski             Amity Williams
2 KL Wyspa                                         Erin Stones
3 K Line                                               Bek Tyler
4 Consider Yourself                             Lucy Watson
5 Wellbrook Serenity              Reegan Heathcote
Class 9B – OPEN -  Access Solutions Welcome Stakes 1.0 m
Article 238.2.2
1 Fernayre Sky Dancer                        Emily Ruffo
2 Inca                                                   Pip Godfrey
3 Sir Rollington                                    Bella heritage
4 Windy Hill Forever               Kirsten Towns
5 The Vinstar                                       Georgia Pearce
6 Thelovejob                                       Reanna Bowman
Class 10A – YOUNG HORSE -  Alberts Diesel Service Welcome Stakes 1.04 m
Article 238.2.1
1 Jellystone Park Ruski             Amity Williams
2 KL Wyspa                                         Erin Stones
3 K Line                                               Bek Tyler
Class 10B – OPEN - Alberts Diesel Service Welcome Stakes 1.04 m
Article 238.2.1
1 Diamonds on Ice                              Erin Stones
2 Tsar of Russia                                    Jess Cowan
3 LA Just Magic                                    Amanda Cameron
4 Windy Hill Forever               Kirsten Towns
5 Fernayre Sky Dancer                        Emily Ruffo
6 Winters Night                                   Esther Cantwell                      
SUNDAY - RING 1
Class 11 Horsemate 1.10m Championship
(horses under 25 points at start of competition only)
Article 273.2.2/3.3.2/4.3
1 Ambervale Smudge              Jo Geard
2 Jellystone Park Peroni                       Amity Williams
3 Gidget du Rouet                              Tim Williams
4 Euroglider                                         Jodi Gardam
5 Jellystone Park Cinzano                    Mykaela Briggs
6 MEC Gatsby                         Alysha Verwey
Class 12 Rosehip Vital Equine Young Rider Championship 1.20m
Article 273.2.2/3.3.2/4.3
1 Dutch Edition                                   Jess Price
2 Landstar 9                                         Mykaela Briggs
3 Jellystone Park Cassime                     Mykaela Briggs
4 Jellystone Park Corona                     Adele Rechberger
5 Cellar Door                                      Sophie Roles
6 Hobson                                            Leearn McNamara
Class 13 Eastern Shore Dental 1.20m Championship
Article 273.2.2/3.3.2/4.3
1 Jellystone Park Chivas                       Mykaela Briggs
2 Any Danger                          Laura Johnson
3 Jellystone Park Cassime                     Mykaela Briggs
4 Shad                                     Wendy Hall
5 Back in the Game                             Tim Williams
6 Sheridan Park Maxx              Shayne Rodman
Class 14 Roberts Open Championship 1.30m
Article 273.2.2/3.3.4/4.3
1 El Cairo                                             Alysha Verwey
2 Jellystone Park Chivas                       Mykaela Briggs
3 Landstar 9                                         Mykaela Briggs
4 Jellystone Park Party Time    Tim Williams
5 Any Danger                          Laura Johnson
6 Back in the Game                             Andrew Gibson
Patrons Trophy                          Tim Williams
Class 15 Cascade Speed Championship 1.20m
Table C Article 263
1 Ima Gold Seeker                              Lydia Dales
2 Jellystone Park Corona                     Adele Rechberger
3 Shad                                     Wendy Hall
4 Jellystone Park Cinzano                    Mykaela Briggs
SUNDAY - RING 2
Class 16 Prydes EasiFeed 90cm Championship
Article 273.2.2/3.3.2/4.3
1 Butterscotch Brittle              Bethany Hirst
2 Bobby                                               Greg Stones
3 Zippy                                                Macenzie Kerrison
4 Breaking News                                  Taylah Evans
5 Jellystone Park Ruski             Amity Williams
6 Dragon Fire                          Rachel Deal
Class 17 Horseland Hobart 1.00m Championship
Article 273.2.2/3.3.2/4.3
1 LA Just Magic                                    Amanda Cameron
2 Tonash Mondo                                 Georgia Elias
3 Windy Hill Forever               Kirsten Towns
4 Rosebank Harry                                Shakira Miller
5 Rowland Park Ruby Tuesday            Demi Rowlandson
6 Fernayre Sky Dancer                        Emily Ruffo
Young Horse Champion             Jellystone Park Ruski
Class 18 Charlotte Peterswald Junior Championship 1.10m
Article 273.2.2.3.3.2.4.3
1 Burrowa Banjo                                Sasha Cantwell
2 Cil Dara Regina                               Adele Rechberger
3 Rosebank Randall                Shakira Miller
4 Kite Runner                         Sophie Orchard
5 Mass Exodus                                    Ashley Steele
6 Country Gold Pritchard                  Ashley Steele
Class 19 International Horse Breeders Encouragement Speed Championship 1.05m
Article 263 Table C
1 Sheridan Park Maxx              Shayne Rodman
2 MEC Gatsby                         Alysha Verwey
3 Country Gold Pritchard                    Ashley Steele
4 Rosebank Randall                  Shakira Miller
5 Burrowa Banjo                                  Sasha Cantwell
6 Tonash Mondo                                 Georgia Elias
Champion OTT Thoroughbred   Any Danger                  15 points
Runner Up                                            Windy Hill Forever         11 points