Lydia Jackson reports from Boneo CDI
The idea of going to Boneo Spring CDI had crossed my mind a number of times and it was suggested to me by friends that I should go but it all seemed too hard, too expensive and I had not really got over my last trip with horses to the mainland. However, late one night my husband said "Let's do it! We can make a holiday of it and it will be good." This was under 4 weeks to go and way past the entry deadline. One quick call to the wonderful staff at Boneo and it was totally possible and no big deal and that was that, off we were going.
I decided to entrust the professionals with Splendido (Roc) and booked him on with Hayley and Tasmanian Horse Transport, who went above and beyond what was expected and delivered him safely to Boneo and now home. Roc arrived Wednesday early am and as we were flying in a little later my wonderful friend ex Tasmanian, Kate Nash met Roc and Hayley and sorted him out in his wonderful, large, airy and warm stable with unlimited sawdust. He was pleased to see us and was pleased when more horses arrived.
I was in the same stable row as Brett Parbary and Kate Farrell and it was amazing to watch such professionalism at work, the smooth arriving, setting up the stables and tack boxes was a well oiled, planned and methodical system. Little things such as the radio, table and chairs, large container of nuts to nibble on, fridge for water and ice boots, mirrors, clothes horses for drying, bandage holders etc it was like a home away from home. Everyone knew their job and Sabrina was in awe and hung to Kate and her groom Danni for most of the show!!!! I was dumped by my 6yo groom for Kate Farrell!!!!!
I could bore you all with all the amazing details about Boneo Equestrian Centre but will let you find out for yourselves at some stage, however I think I can say it is the best Australian venue I have ever competed at by a country mile. It was not just the fantastic venue and set up, nor the sponsored washbays with free shampoo, conditioner, blue sock wash (and detangler!!!!) but every rider was made to feel special, valued and respected.
Splendido worked amazingly in his pre-rides leading up to his first test on the Saturday. I had ample time in my arena and had a fantastic lesson with Charlotte Pederson with the passage finally taking some serious shape and progress. I had a last minute lesson with Roger Fitzhardinge on the Friday afternoon and it was honestly the best he had gone. My small problem was the judges boxes... Roc had a bit of an issue with the ones at Werribee a few years ago and unfortunately more of an issue with the ones at Boneo, from rearing and running past them the first day, to starting to get more relaxed by them by Friday but the E and B ones were still a small worry. 

Roc training at Boneo (photo credit: Roger Fitzhardinge)
Saturday was basically the survival of the Spook Fest Inter A for the whole class, the horses that spooked the least placed in that order, so I was the third best controlled spooker!!! The good bits were great, the stops/omg what is in that flower pot were not so good. I felt disappointed that we could not get on top of the submission and tension but pleased with the quality of work in between. Just for information I had finished my test, cooled him down, rode back to stables, untacked him and my score was known, I then washed and hosed him off, gave him lunch and my test sheet was available!!! Impressive!!!
Sunday I was feeling good. I prefer the ride of the Inter B, and a wind storm, hail and pelting rain in the warm up was not going to dampen my enthusisam. The sun appeared and I was yep this is it!  Great entry, extended trot, super half pass to the piaffe at C and then Roc is like "What is piaffe? Canter?" and I am like "No Roc, remember the awesome piaffe you did 10min ago in the arena 10m away?'' Then more wonderful half passes to another piaffe where Roc was almost remembering what it is and then to great medium trots and better passage to a super extended walk to collected walk and to C where we were to canter right. On approaching C, he finally remembered how to bloody piaffe!!!!!!! No, Roc it's time to canter! Blah blah you get the drift, great bits to not so good bits and the judges boxes were still a bit of a worry. Third again so  at least we were consistent!!!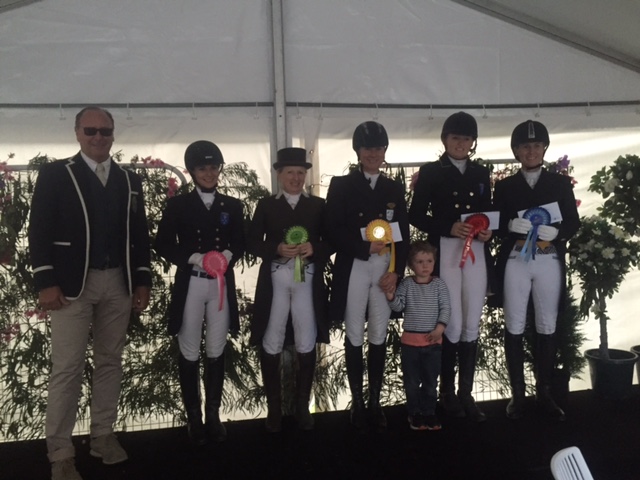 Prizegiving at Boneo Park Equestrian Centre (Photo credit: Roger Fitzhardinge)
Interesting observations and thoughts: 
* Coconut oil apparently sprayed in horses hair improves hair strength and re-growth.
* Some horses prefer sleeping on straw.
* Top hats are out and amazing, beautiful, blingy, snake skin helmets are IN.
* Woollen rugs are out and stylish, european polar fleece rugs are IN.
* ORANGE is the colour.
* Brett Parbery is a beautiful rider.
* There were many european imports and beautiful horses but most of the winners were Australian bred and produced.
* Even the best riders need to get their brave pants on and focus (and yes they get nervous too).
* Tasmania is the only state where dogs are not allowed at competitions!!!!
* Very few people rode or trained with a whip.
* The gear checkers wore gloves.
* My Mum and my family are my rocks.
* My daughter Sabrina was a great help until an alternative turns up...
* My friends and pupils who wished me well with messages, texts and phonecalls were much appreicated.
Special thanks to:
Boneo Park Equestrian Centre
Rosehip Vital
Equissage
County Saddles
Kool Glow
Farriers - John Briggs and Kasey Drew
My wonderful staff at KA
Tasmanian Horse Transport
Dressage Tasmania
My coaches Roger Fitzhardinge and Charlotte Pederson
John Harland and Ian Northeast
Meagan Sommerville - AAZO Equine